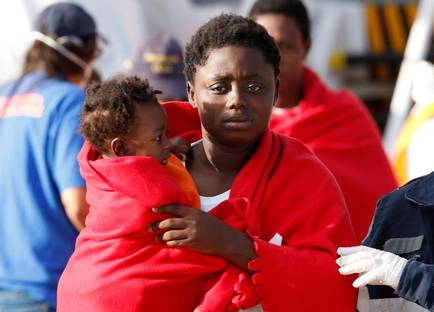 After a year of record humanitarian needs, 2017 looks set to be even more challenging for aid agencies
By Umberto Bacchi
LONDON, Dec 29 (Thomson Reuters Foundation) – After a year of record humanitarian needs, 2017 looks set to be even more challenging for aid agencies as they brace for the fallout from protracted conflicts and other escalating crises.
The United Nations estimates almost 93 million people in 33 countries will need humanitarian aid and has appealed for a record $22.2 billion to help them.
Conflicts in Syria, Yemen, Iraq and South Sudan account for half the budget.
In Africa's Sahel belt, poverty, conflict and climate change have left one in six hungry, fuelling migration to Europe, the United Nations says.
The Thomson Reuters Foundation asked aid agencies to name their three priorities for 2017:
UNHCR – Filippo Grandi, head of the U.N. refugee agency
1) Access to safety for those fleeing conflict – upholding asylum for refugees, and tackling xenophobia, scapegoating and populist fear-mongering.
2) Stabilising frontline refugee hosting countries by supporting an early life-saving humanitarian response, and decisive engagement by development actors to mitigate the dramatic consequences of large-scale refugee influxes.
3) Robust international action to prevent and resolve conflict, and renewed focus on the growing number of people who are internally displaced.
INTERNATIONAL FEDERATION OF RED CROSS AND RED CRESCENT SOCIETIES – Garry Conille, head of operations
1) Emerging infectious diseases are becoming more frequent, complex and difficult to manage as they spread in urban settings with poor sanitation, crop up in new places due to migration and move across borders. After Ebola, 2016 saw the wildfire spread of Zika and yellow fever and Rift Valley Fever in new places.
2) Aid for migrants. With no solution in sight to simmering conflicts and other triggers for migration, and little progress in establishing safe and legal routes for asylum seekers, we expect the staggering numbers of people taking flight to continue in 2017.
3) Local preparedness and localised funding. We will help vulnerable communities become more shock resistant (by) investing in strengthening local systems; teaching and delivering first aid, because 90 percent of lives saved at the outset of a disaster are by locals; and boosting community-based disease surveillance.
INTERNATIONAL RESCUE COMMITTEE – Ciaran Donnelly, senior vice president, international programmes
1) Cash for refugees, not just tents or food. Cash assistance empowers people and gives them choice, it helps scarce resources go further, and it supports the local host economy.
2) Refugees need long-term support, not just emergency relief. This means getting refugee children into school, getting their parents into jobs, and working with international financial institutions, host country governments and the private sector.
3) Don't let Europe and the United States off the hook. Fight to protect the hard-won rights of refugees despite the political and popular backlash, and urge governments to do more. Wealthy countries host just 14 percent of the world's refugees and must not leave poorer countries to manage the crisis alone.
OXFAM – Nigel Timmins, director of global humanitarian team
1) The eight-year conflict between Boko Haram and the military in northeast Nigeria has intensified, spreading into Niger, Chad and Cameroon. We are concerned at least 400,000 people could be experiencing famine-like conditions. Unless humanitarian aid is delivered, this could rise to 800,000. Over 2.6 million people have been forced to flee their homes.
2) After three years of fighting in South Sudan nearly 5 million people are desperately hungry. Half the population is already in need of humanitarian aid. Over 1.8 million people have been forced from their homes and more than one million have fled into neighbouring countries. The Ugandan village of Bidi Bidi has become the second largest refugee resettlement area in the world.
3) The Horn of Africa is experiencing a devastating drought where more than 12 million people in Ethiopia, Kenya and Somalia are facing food and water shortages. Forecasts suggest rainfall will not significantly increase, meaning both harvests and livestock productivity will decline sharply in early 2017.
WORLD VISION – Mark Smith, senior director for humanitarian emergencies
1) As the Syria crisis enters its sixth year, civilians continue to bear the brunt of a conflict marked by unparalleled suffering, destruction and disregard for human life. Some 13.5 million people require humanitarian assistance, including 4.9 million trapped in besieged and hard-to-reach areas.
2) In the Lake Chad Basin, more than 2 million people have been displaced by Boko Haram-related insecurity and, according to USAID, 4.6 million in Nigeria's Adamawa, Borno, and Yobe states are experiencing acute food insecurity.
3) South Sudan continues to experience challenges including almost 600,000 refugees having fled
Source: EXPERT VIEWS – With crises set to worsen, what are aid …